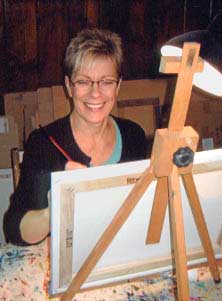 Adults
Our Spring Semester for adults starts Monday, March 15.
In place will be strict Covid-19 Procedures:
• Temperature check upon entrance.
• Masks worn at all times.
• Class size limited to 3 - 6 students, with each having individual table.
• Sanitizers and wipes on each table.
There's a class here for you, no matter what your experience. Some of our students can't remember the last time they explored their "artistic side". Others are quite far along in their artistic ventures.
We go out of our way to make you feel comfortable in developing that part of you that wants to be creative. Classes are eight weeks and start the week of January 4.
Adult classes are for students aged 17+.
---
Drawing: Beginning to Advanced
for Adults
Monday evening, 6:30 - 9:00 pm
Thursday evening, 6:30 - 9:00 pm
or daytime Wednesday, 10:00 am - 12:30 pm

Starts March 15, 17 or 18.
Some are just beginning, while others can't wait to return for more advanced drawing or to move on to painting. This side-by-side class for beginners or more advanced students individualizes instruction to take your drawing to a higher level, whatever your ability.
Beginners start by learning to see all over again as they practice very directed, step-by-step procedures. The fundamentals are taught very clearly and accessibly: line, form, perspective, composition and positive-negative relationships will be put on paper in black-and-white and shades in-between.
Intermediates with some drawing background will be given greater latitude as they strengthen their skills, moving toward greater individual expression.
Advanced students add technique, making drawing a comprehensive tool of design that facilitates and enhances the ability to communicate ideas in all areas of artistic interest, including painting, design, architecture and sculpture.
If you really want to learn, this course may be your best bet!
Instructor: Don Simon 8 weeks (20 hours)
Tuition: $215.
Materials not included.
---
Multi-Media Painting & Monotype Printmaking
for Adults

Tuesday, 10:00 am - 1:00 pm
or Thursday, 6:30 - 9:30 pm

Starts March 16 or 18.
This class offers instruction in a variety of media. Students explore the medium of their choice while observing others develop theirs. Side-by-side will be the opportunity to focus on the exciting one-of-a-kind printing technique, the monotype.
Pastels, a logical step between drawing and painting, brings drawing techniques into the manipulation of color.
Acrylics and Oils both have similar properties and techniques, with oils being more traditional and flexible, while the quicker drying, water-based acrylics are a possible advantage in the learning process.
Watercolor has transparent color blendings and relative quickness.

Gouache, a more opaque medium (sometimes called "opaque watercolor"), also offers interesting challenges.
Monotypes: Using the newly developed water-based paints by Createx™, we will develop various kinds of prints on a plexiglass plate. The monotype allows the student to explore printmaking while, at the same time, keeping the spontaneity of a painting and adding some of the textural effects of collage. This produces both surprising and exciting results when we pass the plate through our etching press. Some basic drawing experience is strongly recommended.
Instructor: Carolyn Simon 8 weeks (24 hours)
Tuition: $235.
Materials not included.
---
Intermediate / Advanced Watercolor, Multi-Media Painting & Monotype
for Adults
Tuesday, 6:30 - 9:30 pm
or Friday, 10:00 am - 1:00 pm
Starts March 16 or 19.
Those familiar with traditional and experimental watercolor techniques further develop their skills with challenging exercises.
With inspiration from forms in still-life, landscape, abstract design - we may even use the figure - we explore visual ideas as fully as one's ability allows. Composition, color, light, and brush techniques are only some of the areas we will investigate.
Instructor: Carolyn Simon 8 weeks (24 hours)
Tuition: $235.
Materials not included.
---
---
Materials Not Included...
When a course listing says "Materials not included", that means we try to take advantage of any materials you may already have (please bring to first class) or can make yourself. The instructor will tell you what materials will be required and where you can buy them if needed.
Back to the top...