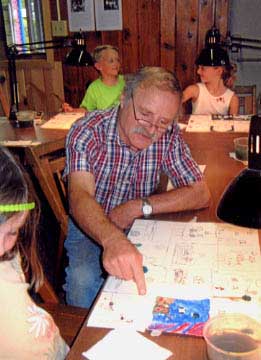 Enrollment
Multiple Class Discount
Starting each school year (October), and after you or your immediate family have fully enrolled in two classes, you are entitled to a ten percent discount on the TUITION ONLY of the third or more classes. The discount does NOT apply to any Materials, Model Fees or Workshops. Classes do NOT accrue from the previous school year.
Referring to the class descriptions, deduct 10% off applicable tuition(s).
Add that amount to non-applicable Tuition.
Add any Materials or Model Fees in-full to subtotal.
Enter total on the "Grand Total Enclosed" line of the Application Form.
The Application form must be filled out and submitted with payment, in-full, for enrollment to be complete.

Completed applications are registered on a first-received, first-enrolled basis. Because this is a small school- with small classes- some who have registered late have found courses no longer open. You may mail in or deliver to our front door receptacle. Sorry, no telephone or e-mail "reservations", and there is no registering on-line.

Send completed Application Form with check made payable to:

Sunrise / ESAC
26 Rochambeau Avenue
Providence, Rhode Island 02906

Registration is either sent via US Mail, or, dropped off at the school.
Sorry, no registration by E-mail or telephone.

The Application Form and Gift Certificate download as a single PDF file.


Withdrawal Refund Policy:
Our Withdrawal Refund Policy takes into consideration mutual student / school commitment, planning, preparation and expectations...

100% refund: At least 7 days prior to the day of the first scheduled class.

90% refund: Within 6 days prior to the day of the first scheduled class.

80% refund: After the first class and at least twenty-four hours before the second class.

After that, no refund.
---