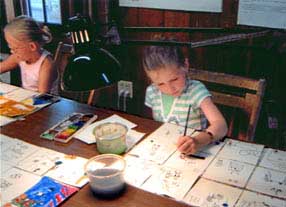 Kids
No matter what the course title, the lessons are different each semester. The children who attend these classes and their parents, too, look forward to each challenge with great anticipation. These are among the finest children's classes you'll find anywhere... a real collaboration between student and teacher. Classes are eight weeks and most start the week of January 8.
---
kidstART
Ages 5-6
Thursday, 3:45 - 5:00pm... Starts January 11.
This always new general art course goes beyond what kids normally get elsewhere. We'll be doing three or four different projects that incorporate materials - some familiar to youngsters, some not - in new ways.
Our goal is to stimulate the imagination and increase a child's emerging visual vocabulary by developing SEEING and coordination skills.
Starting slowly as we get accustomed to our new surroundings, we gradually pick up the pace with projects the children may not be getting in school, both two- and three-dimensional. Such lessons as measured drawing instruction, clay, paper maché, printing, pottery, painting and more, increase a young child's focus and build logical thinking. A few long-term projects will develop planning skills and make their creativity something they will really take pride in and wonder what's next.
Instructor: Don Simon 8 weeks (10 hours)
Tuition: $165., plus $23. materials. Total: $188.
---
Exploring Media
Ages 7-10
Monday, 3:45 - 5:00pm... Starts January 8.
Each semester is always new with an exciting and very full hour-and-a-quarter of three or four two- and three-dimensional projects using a variety of media. Past projects have been colorful African masks, pottery, landscape and still life paintings, drawing from the figure and more. The emphasis is on careful SEEING and then drawing, painting and/or sculpting some pretty remarkable work. Couple this with measured-drawing instruction, and you have a time for real fun and creative growth.
Instructor: Don Simon 8 weeks (10 hours)
Tuition: $165., plus $27. materials. Total: $192.
---
THE PROJECT CLASSES:
These are "signature" classes that are a real colaboration between student and teacher. The "young artist/designer" thoroughly explores, tackles and understands one major project, developing analytical,planning and organizational skills. Because of the nature of these classes, attendance is very important as the kids develop commitment to task, focus and pride in their considerable achievement. There may be occasional homework.
PROJECT ONE, JUNIOR: Fantastic One-Ring Circus
Ages 6-7
Wednesday 3:45 - 5:30 pm... Starts January 10.
Kids delight in the circus... All of the activity, the animals, the trapeze, the excitement of the crowd. Here's an opportunity to make their own!
We'll begin with a simple wooden box with a pole in the middle. That's the basis for the "tent" and everything beneath it, including a painted clay ring, Sculpy® lions, tigers, elephants, clowns, and other performers, wire for the trapeze, wood for the ladders and, of course, an audience!
Pictures will help get us started, but the real inspiration will come from their imagination.
Instructor: Don Simon 8 weeks (14 hours)
Tuition: $185., plus $32. materials. Total: $217.
---
PROJECT ONE: "The Incredible Wacky Chair"
Ages 8-11
Tuesday, 3:45 - 5:30pm... Starts January 9.
This is fantastic! The kids will design an actual piece of furniture - "sculpture" to be seated in, starting with a conceptual color rendering. This is no mere painting class, but a real construction project! While Don will do the sawing and heavier piecing together, the kids will help assemble the skeletal frame, using wood, wire, and other objects - possibly paper maché and wheels. They will shape and cut foam rubber for cushions, paint fabric, add appliqué and wheels (if they wish) and, if time allows, finish the project with a coat of polyurethane for durability.
The end result is an astounding work of art that can be displayed or actually used. As usual, discovery will be turned into accomplishment and something to be proud of for years to come. (Some homework may be required.)
Instructor: Don Simon 8 weeks (14 hours)
Tuition: $185., plus $32. materials. Total: $217.
---
Drawing & Painting for Kids
Ages 11-15
Friday, 3:45 - 5:30pm. Starts January 12.
Okay... The school week is over... This class is a blast and THE class for kids this age, many of whom return time-after-time.
This semester our main project will be the deceptively simple and challenging task of analyzing line, shape and/or color to create the exciting vibrations of optical art, or "Op Art". Working with positive and negative shapes, color-oposites and close and contrasting values, the kids will master their brush technique as they use acrylic on a Masonite® panel.
We will also have other in-studio lessons, such as charcoal, acrylics and watercolor. Learning the basics of good drawing and the exploration of painting is something we take very seriously... That's where the fun starts!
Instructor: Don Simon 8 weeks (14 hours)
Tuition: $185., plus $25. materials. Total: $210.
Back to the top...