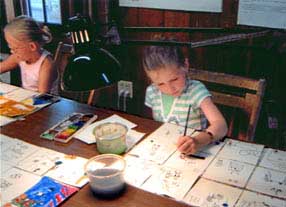 Kids
No matter what the course title, the lessons are different each semester. The children who attend these classes and their parents, too, look forward to each challenge with great anticipation. These are among the finest children's classes you'll find anywhere... a real collaboration between student and teacher. Classes are eight weeks and most start the week of October 1.
---
kidstART
Ages 5-6
Thursday, 3:45 - 5:00pm... Starts October 4.
This always new general art course goes beyond what kids normally get elsewhere. We'll be doing three or four different projects that incorporate materials - some familiar to youngsters, some not - in new ways.
Our goal is to stimulate the imagination and increase a child's emerging visual vocabulary by developing SEEING and coordination skills.
Starting slowly as we get accustomed to our new surroundings, we gradually pick up the pace with projects the children may not be getting in school, both two- and three-dimensional. Such lessons as measured drawing instruction, clay, paper maché, printing, pottery, painting and more, increase a young child's focus and build logical thinking. A few long-term projects will develop planning skills and make their creativity something they will really take pride in and wonder what's next.
Instructor: Don Simon 8 weeks (10 hours)
Tuition: $175., plus $23. materials. Total: $198.
---
Exploring Media
Ages 7-10
Monday, 3:45 - 5:00pm... Starts October 1.
Each semester is always new with an exciting and very full hour-and-a-quarter of three or four two- and three-dimensional projects using a variety of media. Past projects have been colorful African masks, pottery, landscape and still life paintings, drawing from the figure and more. The emphasis is on careful SEEING and then drawing, painting and/or sculpting some pretty remarkable work. Couple this with measured-drawing instruction, and you have a time for real fun and creative growth.
Instructor: Don Simon 8 weeks (10 hours)
Tuition: $175., plus $27. materials. Total: $202.
---
THE PROJECT CLASSES:
These are "signature" classes that are a real colaboration between student and teacher. The "young artist/designer" thoroughly explores, tackles and understands one major project, developing analytical,planning and organizational skills. Because of the nature of these classes, attendance is very important as the kids develop commitment to task, focus and pride in their considerable achievement. There may be occasional homework.
PROJECT ONE, JUNIOR: "Mask Makers"
Ages 6-7
Wednesday, 3:45 - 5:30pm... Starts October 3.
In time for Halloween?... Perhaps. But these masks are meant to be saved as very imaginative artwork.
We start with a show-and-tell of masks from around the world. Then comes the child's sketch, just to see the design possibilities. We'll use paper maché, wire, cardboard, foam, fabric and other media to construct a marvelously creative mask.
Then, a real surprise! To bring our mask "to life", the kids will write and illustrate a story about their character which will go into a delightful book.
Instructor: Don Simon 8 weeks (10 hours)
Tuition: $195., plus $32. materials. Total: $227.
---
PROJECT ONE: "The Comic Book"
Ages 8-11
Tuesday, 3:45 - 5:30pm... Starts October 2.
Kids wait for this favorite to pop up on the schedule. This semester they will develop their own action story, complete in a bound book.
We'll start with over-size sketches, separating our stories into comic book frames with drawings, speech and thought "bubbles". During the process, we'll study line, form, shading - even spend a lesson on vantage point and lettering - all the things that add to the expression of the story.
The kids will learn that, while drawing comic characters is fun, there's a lot of work that goes into the finished, very "professional-looking" product - a one-of-a-kind comic book.
Instructor: Don Simon 8 weeks (14 hours)
Tuition: $195., plus $32. materials. Total: $227.
---
Drawing & Painting
Slater Mill: Drawing from History
Ages 11-15
Friday, 3:45 - 5:30pm. Starts October 12.
While the fun of drawing and painting is the primary focus of these on-site classes, the kids will also examine the characters and events behind their picture as we look at Slater Mill from a visual and historical perspective. This nearby historic landmark is considered by many to be the birthplace of America's Industrial Revolution. With its classic historic mill architecture, waterwheel and waterfall, this is a wonderful place to discover. A little history... a little art... a very careful examination as we do a number of sketches before deciding which one to render in watercolor.
When the weather doesn't cooperate, we'll do studio assignments in a variety of media, such as pencil, charcoal, pastel and acrylics.
Instructor: Don Simon 8 weeks (14 hours)
Tuition: $195., plus $25. materials. Total: $220.
Back to the top...