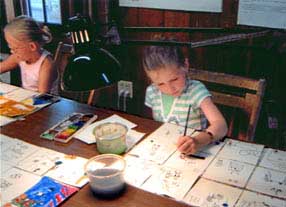 Kids
Our 8-week Fall Semester for kids starts on Monday, October 3.
For the safety of all, we are requiring at this time that all of our students and teachers are FULLY VACCINATED. For kids, mask-wearing may be required. We are all together during this probably unnecessarily extended situation and we hope that you will respect this policy.


No matter what the course title, the lessons are different each semester. The children who attend these classes and their parents, too, look forward to each challenge with great anticipation. These are among the finest children's classes you'll find anywhere... a real collaboration between student and teacher.
---
Exploring Media
Ages 7-10
Monday, 3:45 - 5:00pm... Starts October 3.
Each semester is always new with an exciting and very full hour-and-a-quarter of three or four two- and three-dimensional projects using a variety of media. Past projects have been colorful African masks, pottery, landscape and still life paintings, drawing from the figure and more. The emphasis is on careful SEEING and then drawing, painting and/or sculpting some pretty remarkable work. Couple this with measured-drawing instruction, and you have a time for real fun and creative growth.
Instructor: Don Simon 8 weeks (10 hours)
Tuition: $195., plus $37. materials. Total: $232.
---
THE PROJECT CLASSES:
These are "signature" classes that are a real colaboration between student and teacher. The "young artist/designer" thoroughly explores, tackles and understands one major project, developing analytical, planning and organizational skills. Because of the nature of these classes, attendance is very important as the kids develop commitment to task, focus and pride in their considerable achievement. There may be occasional homework.
PROJECT ONE, JUNIOR: "Fantastic One-Ring Circus"
Ages 6-7
Wednesday 3:45 - 5:30 pm... Starts October 5.
Kids delight in the circus... All of the activity, the animals, the trapeze, the excitement of the crowd. Here's an opportunity to make their own!
We'll begin with a simple wooden box with a pole in the middle. That's the basis for the "tent" and everything beneath it, including a painted clay ring, Sculpy® lions, tigers, elephants, clowns, and other performers, wire for the trapeze, wood for the ladders and, of course, an audience!
Pictures will help get us started, but the real inspiration will come from their imagination.
Instructor: Don Simon 8 weeks (14 hours)
Tuition: $215., plus $39. materials. Total: $254.
---
PROJECT ONE: "The Children's Book"
Ages 8-11
Tuesday, 3:45 - 5:30pm... Starts October 4.
"They're amazing!" That's what the kids - and their parents - say at the end of this project.
Even if your child has made a book before, it was not like this one. He or she will be writer, designer, illustrator (drawing and painting) and publisher of a unique, sewn hardcover.
An enormous amount will be learned as the kids incorporate the written word within their designed page, learning about letter design, page composition and how books are printed (we may even visit a printing plant). In the process of learning skills that can be used throughout their lives - in school, work and pleasure, they will gain an appreciation of all publications they are likely to see from here on.
Kids have their favorite books, but this one is likely to be among their - and their parents' - most cherished. (There may be occasional homework in this class).
Instructor: Don Simon 8 weeks (14 hours)
Tuition: $215., plus $39. materials. Total: $254.
---
Drawing from History (Painting, too.)

"The Stephen Hopkins House"
Ages 11-15
Friday, 3:45 - 5:30pm... Starts October 7.
While the fun of drawing and painting is the primary focus of these on-site classes, the kids will be told the story of the times, characters and events behind their picture as we look at The Stephen Hopkins House off of Benefit Street in Providence.
A slave owner, Stephen Hopkins pushed to end slavery. At twenty-three a justice of the peace, he became Chief Justice of the RI Supreme Court twenty years later and then a long-time Governor. He championed paper money, not hard currency, and was for the rights of colonies, not heavy British taxation. He was a pivotal figure in the Gaspee Affair leading to the Revolutionary War and was a signer of the Declaration of Independence.
We will do a number of sketches before deciding which one to render in acrylics. When weather doesn't cooperate, we'll do studio assignments in a variety of media such as pencil, charcoal, pastel and acrylics.
Instructor: Don Simon 8 weeks (14 hours)
Tuition: $215., plus $32. materials. Total: $247.
---
---
Back to the top...